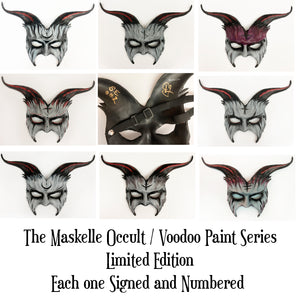 Occult / Voodoo Style Goat Mask Special Edition,
each one is signed and numbered on the back.
Each numbered piece in this special edition will be unique but will follow a similar aesthetic.
Limited quantity available at any given time, please inquire and we'll let you know what we have available, or how many we can prepare for you in your time frame!
We are using our grey goat mask base as the base for this special edition series (Grey Goat Mask is available separately without the Special Edition added paint, if you prefer, and is also available in solid black).
♥ costume mask, Halloween masks, masquerade, Mardi Gras, cosplay, prop, decoration

♥ adult size
♥ flexible, comfortable, lightweight (approx. 5 ounce) innovative cast foam material (not unlike squishy comfy clog material but a bit denser)

♥ fully adjustable,sturdy elastic straps that are well attached to mask
♥ water resistant and hand washable

Approximate measurements:
Goat Mask measures about 16" across from horn tip to horn tip and is about 6 3/4" when measured across the back of the face at about eye lever (this measurement can change a little due to the flexible nature of the mask).

Not for use by children under 14 years old.
This mask is a cast reproduction of an original design, all rights reserved and © by a long time mask artist (you can check out her work at www.teonova.etsy.com) and licensed to Maskelle.  All mask and website design and content rights reserved.

Maskelle LLC is a US company, based in the beautiful Florida Keys.

We have a SHORELINE CLEANUP PROGRAM - we take a piece of trash for each mask sold, from the ocean shoreline here in Florida. ♥


Halloween mask masks costume costumes masquerade adult masks men women goat mask scary mask mardi gras Halloween yard prop props decoration decorations trick or treat trick or treating theater