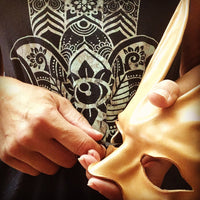 Where We Get Our mask Designs
Maskelle was founded to produce cast, non-leather versions of my handcrafted leather masks (I still make a few every year, you can check them out at https://www.etsy.com/shop/teonova).
It was time to move on from forming and making each mask entirely by hand - my hands deserve a rest after doing that for many years. And it was time to branch out and explore new materials and processes. A priority for each Maskelle mask design is that it retain the look of the leather original but be available to purchase as a cast version at a fraction of the cost.
Teonova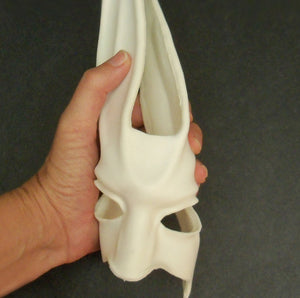 Flexible Material
Maskelle masks are cast molded from a dense foam material that is a lot like the comfy squishy clog material that many people are familiar with.
Some Maskelle masks are made of denser cast foam than others, depending on what is most suitable for each design. For instance, our goat masks are quite firm, though still flexible, while our wolf masks are flexible enough to be rolled up.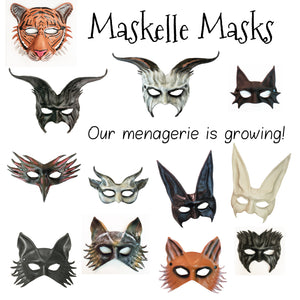 Not Just For Halloween...
Maskelle masks are great for photo shoots / photo props, masquerade, Halloween, Mardi Gras, costume, parties, team mascots, events, festivals, theater, opera, dj's. bands, musicians, wall art, decor, and any fun time you can dream up.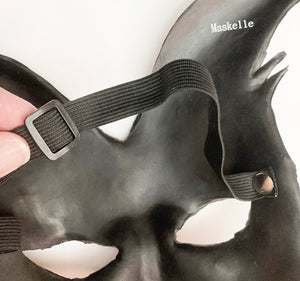 Committed To Quality
Style . Fit. Comfort. Quality     We have worked hard to make Maskelle masks affordable without sacrificing quality upgrades like sturdy, adjustable and well attached straps, durable materials, and great looks. You won't find thin little cords of elastic that break or pop out of the mask, on a Maskelle Mask. Our innovative material is sturdy enough to last for years and flexible for comfort.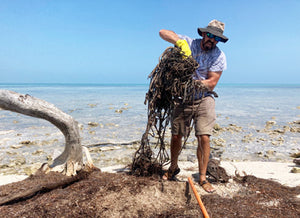 Our Shorleine Cleanup Program
Our community outreach includes our Shoreline Cleanup Project. Most of our cleanups take place here at our home in the beautiful Florida Keys. For each mask you purchase, we remove a piece of trash from the ocean shoreline. Check our Shoreline Cleanup page for photo and video updates of past and current cleanups.
Customer Reviews From Our Etsy Shop ( left-right scrollable)
beautiful comfortable super fast shipping !!!!!!!!!!!!id give more stars if i could, oh wait ************i can lol.

-Raven M.
Mask was exactly what I had hoped for. The material is sturdy but not horribly hard or uncomfortable. Sort of between a plastic and a leather feel. Seller shipped right away and I had it in hand almost across the country within days. Totally recommend Maskelle. Many thanks.

Cassandra, Oct. 20, 2020
Not only did my package arrive earlier than expected but it was beautifully wrapped and felt like Christmas opening it. The masks were perfect and we can't wait to wear them for halloween.

Rebekah Oct. 27, 2020
I'm so pleased with this mask. It looks fantastic and the material is very supple and comfortable. Great quality. Great detail. So much bang for the buck. And even the packaging had personal touches that added to the purchase experience for me. I will absolutely buy another mask. Super pleased!

David, Aug. 28, 2020
Love everything about this mask. It came in great timing and was very nicely packaged .

Sheli, Sept. 3, 2020
This mask is even better than I expected. It looks amazing and is very comfortable to wear. Shipping was fast as well.

zx2max, Sept. 30, 2020
Fits well. Looks good. Arrived quickly

Shari, Sept. 16, 2020